Village Map / Stores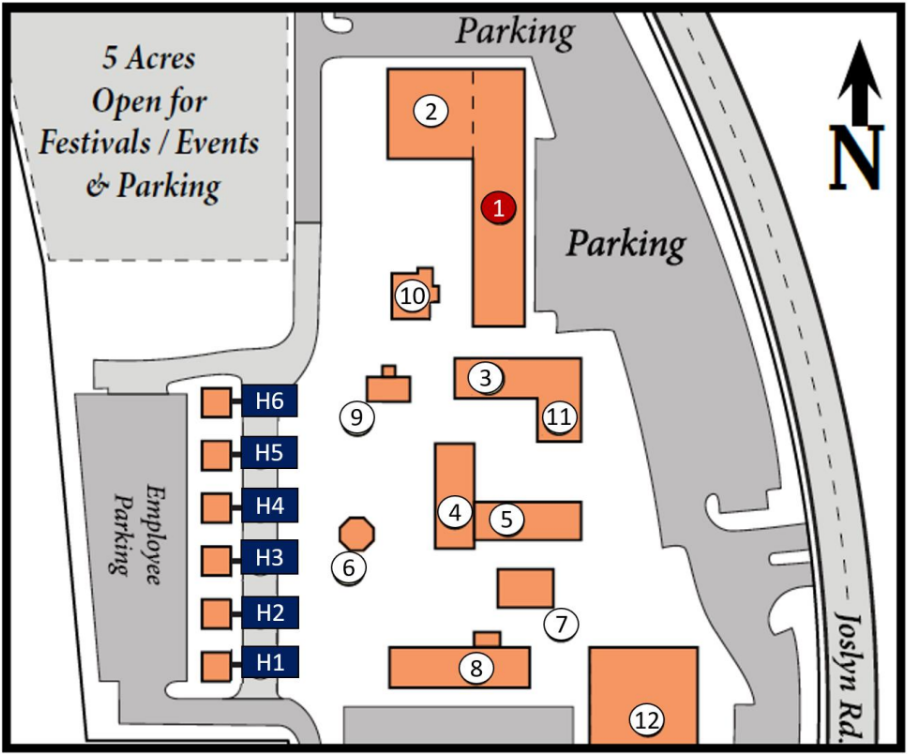 Olde World Canterbury Village, a designated historical landmark in the State of Michigan, extends over 21 acres on what once was part of the old Scripps Farm.
The Village is host to 14 specialty shops and has many distinctive features. Our recently re-located Aldridge's Always Christmas store is one of the largest and most unique Christmas stores anywhere! The field stone wall that once was the foundation of the original hay barn on the Scripps Farm, built circa 1870, is now the backdrop for many of the displays in our new Always Christmas store.
---
Store List
Kings Court Castle Restaurant and Banquet Center

Whether it is a dinner buffet, family style dinner or an individually plated meal you are looking for, we have something to accommodate everyone. It is also perfect for a formal gathering or business setting. So visit King's Court Castle and experience its charm and grandeur for a lifetime of memories.

Phone: 248.391.1900
Web site: KingsCourtCastle.com
Canterbury Webpage: Kings Court Castle
---
The C-Pub Bar & Grille

The Clansman Pub offers a casual dining atmosphere with a cedar and stone interior. It is located on the north end of Canterbury Village behind our famous King's Court Castle. The Pub offers home made soups, sandwiches and a selection of fresh salads. Domestic and imported beers, cocktails and wines are served from our friendly bar.

Phone: 248.391.1900
Web site: KingsCourtCastle.com
Canterbury Webpage: The C-Pub Bar & Grille
---
Michigan Market Place

An all Michigan boutique, consignment store featuring handmade and artist designed products

For more information please contact:
Keith Aldridge: 248.390.3974
Email Requests: Please Click Here
---
The Wooden Tuilp

The Wooden Tulip is dedicated to making personalities shine through fun, unique, and affordable boutique style clothing and accessories.

We are a Women's boutique featuring quality, trendy women's clothing ranging in size from petite to plus.

Web site: TheWoodenTulip.com
Facebook: The Wooden Tulip

Wooden Tuilp Hours:
Wednesday - Friday: 11:00 am to 7:00 pm
Saturday: 10:00 am to 7:00 pm
Sunday: 10:00 am to 6:00 pm
---
Weekend Market Place

Canterbury Village is transforming into the best and biggest Wekkend Market Place in Michigan!

Sell for as little as $20 a week! Click here for details.

For leasing information please contact:
Keith Aldridge: 248.390.3974
Email Requests Please Click Here
---
Village Vendor Market

A gathering place for vendors. Open to the public.

Phone: 248.391.5791
---
For Lease

For leasing information please contact:
Keith Aldridge: 248.390.3974
Email Requests Please Click Here
---
Yates Cider Mill

Yates is known for making a premium cider. During the fall, as many as six different varieties of apples are blended to produce delicious, 100% natural Yates cider. Yates takes pride in selecting the best balance of apples to give you the very best, balanced flavor of sweet and tart you can find anywhere.

Web site: YatesCiderMill.com
Facebook: Yates Cider Mill
Canterbury Webpage: Yates Cider Mill

Yates Summer Hours:
Wednesday - Friday: 11:00 am - 9:00 pm
Saturday - Sunday: 10:00 am - 9:00 pm
---
FlourShop

Michigan Baker - Local Orders ONLY~I do not ship

Email:

This email address is being protected from spambots. You need JavaScript enabled to view it.


Facebook: The Flour Shop
Instagram: @theflourshop_mi
---
Revival Salon

We are a full service salon also offering the following services to help make your wedding day perfect! 

Formal hair styling
Make-up traditional and Air Brushed
Manicures, Pedicures, Gel Polish
The capacity to service bridal parties of any size
A private bridal suite to prep for the ceremony is also available for lease

We are a fun, down to earth salon with very talented stylists and manicurists. Located in the big blue house behind Kings Court Castle.

Phone: 248.391.6160
Web site: revival-salon.webs.com
Facebook: Revival Salon
---
For Lease

For leasing information please contact:
Keith Aldridge: 248.390.3974
Email Requests Please Click Here
---
Woodside Bible Church

 

Whether you are new here, just visiting, or a regular attendee, we would like to get to know you and help you on your journey with Christ. Our mission is to help people BELONG to Christ, GROW in Christ, and REACH the world for Christ and we offer many ways for people in all different stages of their life to become connected and involved. The easiest way to get to know us, is by joining us for one of our

Web site: WoodsideBible.org
---
MI Oily Cottage

Explore the unique aromatic world of essential oils at MI Oily Cottage. We offer a vast variety of exceptionally high quality pure essential oil singles and blends, as well as the only EO infused CBD oil in the world.

At MI Oily Cottage, you will find:

Essential Oil Accessories including Diffusers and Oil holders
Educational Information including a vast array of books
Toxin Free household products
Mineral based make-up
His & Her's Personal care items
Targeted nutritional supplements
Baby and Kids toxin free essentials
Animal care products
EO Diffuser jewelry

Be sure to check in often as we update specials and will be hosting Essential Oil education and usage workshops!

Phone: (810) 358-6536 
Facebook: @MIOilyCottage
---
Stitch in Time Tailor Shop

Clothing and tailoring, extraordinary tailoring, clothing design, costume, historical clothing, Sewing & Alterations

Phone: (248) 770-1827
Cell: (248) 481-8300
Email: This email address is being protected from spambots. You need JavaScript enabled to view it.
Facebook: Stitch in Time Tailor
---
Pushna Wellness

A hidden gem where you can experience holistic wellness through yoga, fitness, coaching and health products. Enriching and enhancing your life by helping your mind and body relax, restore and renew. First class for $10 or first week only $20!

Phone: (989) 327-4688
Email: This email address is being protected from spambots. You need JavaScript enabled to view it.
Web site: www.pushnawellness.com
Facebook: Pushna Wellness
---
Wesley Scott's: Womens Retail

Wesley Scott's is a place where women with different shapes, ethnic backgrounds, and sizes can find herself wearing classy and clothing. We want to make people feel good about their purchase. All items are shipped from within the USA, which means there's no long wait on receiving your orders. Our items are hand selected by our team to ensure quality and sizes are practical.

Facebook: Wesley Scott's
Instagram: WesleyScottsStore
Website: WesleyScotts.com
---
Down the Rabbit Hole

Join us going down the rabbit hole! Fandom, fantasy, and fun all await!

Fun, whimsical items are our specialty. You'll find everything from beautiful jewelry and steampunk accessories to fairies and dragons galore to fandom fun for all ages.

Phone: (248) 558-0525

Email: This email address is being protected from spambots. You need JavaScript enabled to view it.
Facebook: RabbitHoleOrion
Website: Down the Rabbit Hole
---
Gotta Have Glass - A Glass Art Studio

Quality stained glass art work. We have the ability to do small custom creations to large. We have combined studio space to create any project of desire. Stop in and say hello!

Phone: (248) 760-4059
Web site: Gotta Have Glass
Facebook: Gotta Have Glass